Item#7010
Net Wt. 約4磅 / 1.8KG
Product of Taiwan 台灣產
◆ CNS一等米

◆ 層層履歷管理-
**附帶追溯號碼,掃QR可看"出生"及成長證明, (請於圖中QR掃掃看) 每包有獨有自己QR code (ID)

◆ 等及台南16號稻品種
◆ 選濁水區流域
◆ 小農民契約合作生產
◆ 天然米香濃郁.口感Q彈
◆ 適用於日式料理、壽司、咖哩飯、丼飯等等 (醬汁會包裹在其彈性的飯粒表面,不會讓米過於濕爛)
金農米台灣越光米有參加台灣農委會推行的產銷履歷,是一個農產品的履歷追溯體系,
可憑藉的商品上面的QR碼讓消費者掃描後,可以知道吃到肚子的米,是哪裡生產,甚至是誰種植!包括種苗,成長,何時施肥,收割,運輸,
包裝等,讓您吃得安心!
Jinnong Rice Taiwan's Koshihikari Rice participates in a traceability system of the Taiwan Council of Agriculture.  By scanning the QR code on the product, consumers know everything about the rice they are eating, including the date of seedlings, growing, fertilizing, harvesting, packing, shipping and even who grows it! Just enjoy with peace of mind!
 Example: (Every pack has unique QR code)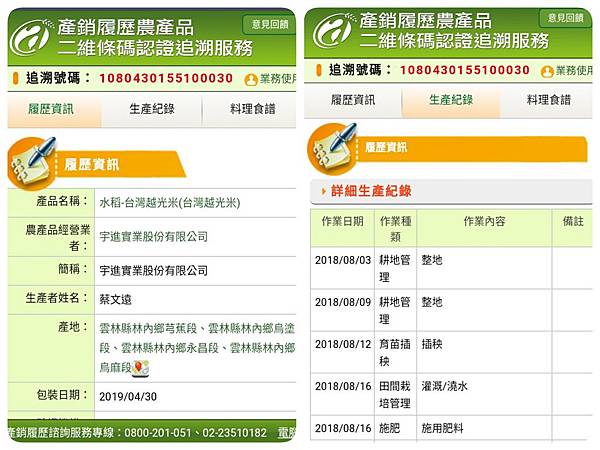 「台南16號」被譽為「台灣越光米」的品種。
是改良自日本越光米而來,保留了日本越光口感細節的表現,並融合台灣元素,使台灣越光米更能適應台灣氣候種植,並使口感吃起來更趨近在日本種出來的越光米品質,好吃的程度不用特意跑去日本吃。
特點:

此款台灣越光米的黏性及Q度都非常好,米型小巧精緻,圓潤剔透,新鮮收割使其保存甜味,不論熱飯、冷飯都相當好吃。

單獨品嚐可以細嚼其清甜底蘊充盈口中,假若搭配加上醬汁,醬汁會包裹在其彈性的飯粒表面,不會讓米過於濕爛,確實是愛米飯的你最佳的選擇!
"Tainan No. 16" is known as the variety of "Taiwan Koshihikari Rice".
It is improved from Japan's Koshihikari rice, retains the performance of the Japanese Koshihikari taste, and integrates Taiwanese elements, making this type of rice more suitable for planting in Taiwan's climate, and making it no different to those grown in Japan. 

The stickiness and the bounciness of this Taiwanese Koshihikari rice are excellent. The grain is small and delicate, round and clear, and freshly harvested to preserve its umami. It is delicious whether serve hot or cold.

If you taste it alone, the aroma will fill in your mouth, you can taste it's umami and special texture. If you add sauce with it, the sauce will wrap on the surface of its elastic rice grains, and will not make the rice too wet. It is indeed the best choice for you who love rice!